005. Tellusian - Scania 7"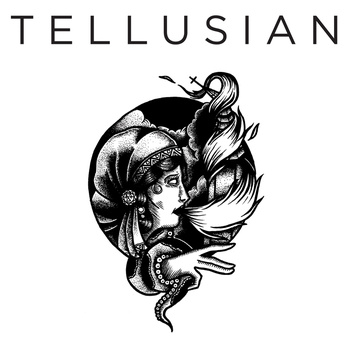 A band that rose from the ashes of CROWPATH, of which you will recognize the signature drumming and harsh vocals. But where CROWPATH was about unrelenting chaos, Tellusian shows restrain and make more use of dynamics with new guitar and basswork. Described in a review as "technical progressive sludge metal with some death grind influence" which might sound like it's all over the place, but when you hear it, it will all make sense as it comes together in a perfect package.
Notes:
200 copies on green vinyl. 300 copies on black vinyl. Artwork by
Vincent Denis
.
Discography:
split 7" with The Swan King [Hell Comes Home, 2012]
Scania 7" [Pillowscars, 2013]
Collision LP [Pillowscars, 2014]
Tellusian:
Bandcamp
/
Facebook
Reviews:
Aquarius Records
First we've heard from these Swedish grinders, who were born of the late great Crowpath, and who traffic in a similarly punishing sound, albeit a bit more melodic. The A side opens quite misleadingly with a brief bit of shimmery strum, bleary slowcore soft focus math rocky riffage, which quickly explodes into some churning, downtuned melodic grind-prog, chugging and blasting, with some wild little mathed out sonic curlicues, not to mention some crazy catchiness that had us thinking of all the classic Swedish death metal that came before. The sound flits from more metallic chug to the sort of post/math rock heaviness we can't ever get enough of. The B side is more of the same, dizzyingly agile math metal, prog grind, rife with blasts and chugging riffs, but shot through with still more crazy catchiness. Definitely dying to hear more from these guys...
Echoes and Dust
Tellusian are a Swedish sludge metal band mixing in plenty of grind elements making their music slightly different from the vast amount of sludge metal bands out there at the moment. This four piece comes from Malmö and what is it with Scandinavian countries and heavy music these days? It almost seems like every other promo I get sent is from Norway, Sweden or Finland! Not that this is a bad thing obviously as they certainly are a very talented bunch of people up there!
Tellusian have been on the scene for a few years now, having released a couple of 7" releases and this Scania 7" is their latest one, giving us a taster of what is to be released later this year with their planned full length release Collision.
So, here we're dealing with 2 blistering tracks, 'Karnival' and 'Eight Years of Rest', both just over 3 minutes in length. This 7" is pretty much the real thing, it is fucking awesome! Heavy chugging sludge riffs, deep growling vocals and a whole range of various pounding drum rhythms are presented to you here. There are indeed grind elements added to the mix, for example after the brief intro in the first track 'Karnival'. Furious blast beats are interchanged with slower almost Mastodon-like instrumental bits and a huge pile of heavy riffing.
Second track 'Eight Years of Rest' continues this technical heavy riffing and shredding showcase. The combination of those blast beats and heavy chugging guitars is brilliant and I can imagine that this band would be devastating live, probably destroying everybody present, similarly to how Coilguns slays the audience during their violent displays.
This is not just sludge or grind, this is metal of the top shelf of superior quality and this 7" is making me extremely excited for the release of Collision. I can't fucking wait.
One Path For Me
It's sort of prog, sort of metal, sort of heavy...it's a whole lot all at once. Tellusian are from Sweden and have no qualms with showing their musical aptitude. For all the technicality the band never loses a nice flowing groove.
Aside from the discordant and noodly guitar/bass work, the vocal and drum work were really the first thing to hit me. There's some very impressive drumming happening here that incorporates double bass movements in a tasteful and creative way.
Vocally I'm hearing something that reminds me of Titan or Buried Inside, mostly for it's lower register growl and relentlessly brutal approach. At times you'll hear a clangy bass peak out for a short solo before the crushing guitars fill back in. For such accomplished musicians, they haven't forgotten how to work as a team and meld together nicely.
The Sludgelord
The band Tellusian, whom I referred to as Technical progressive sludge metal with some death grind influence back in 2012, are back with this super tight 7" vinyl release, entitled Scania. Originally released via bandcamp in 2011 and with their upcoming first full length, Collision due to be released later this year. The Pillowscars label have decided to release theses tunes in two choice cuts of delicious wax, green limited to 200 and black limited to 300. So what about the record?
Put simply, two blistering tracks and a showcase for this band's undoubted talent. Karnival kicks things off with the deftest introduction, then it is head first into a technical rage fest; if you like your music off kilter with blast beats and enough time changes to explode your casio calculator watch, this band is for you. The music on offer is brazen and forthright in its approach, unyielding riffs, death growls, superfluous shred guitar. Indeed the amount of ground they cover in terms of progression, makes your head spin, this is unashamedly vicious stuff.
Ironic indeed then that the next track is called, 8 Years of Rest, because after the previous dose of brutality, you're gonna need it. For me this is the highlight of the two tracks, revelling in the bastardised riffs on offer, their skills as evidenced on Karnival are on full display here too. Differential calculus is a more apt title for this band, given the rate in which the tone of their music changes, Tellusian's dexterity and cohesion is simply jaw dropping. The biggest compliment I can give is simply, originality!! An archetypal band, an original model, a type after which other similar things are patterned, Scania is a superior release, by a brilliant band. So go buy it. Bring on the full length
Yellow Green Red
'Tis the season for Swedish metal-core, so let's all give Tellusian a warm welcome. These four lads play frantic, down-tuned metal-core the way it was meant to be – loud guitars, drums up in the mix, big throaty unintelligible vocals, blast-y fast parts and dirge-y slow parts, and a level of technicality that most Guitar Hero experts couldn't hang with. Besides the brief and lonely guitar intro on "Karnival", both songs recall classic Cave In and Converge, the days when collecting all the colored vinyl versions of every Hydra Head release really meant something. I'm being silly of course, but I will always enjoy music like this when it's done well and not too stupid, and Tellusian meet both of my guidelines. I feel like this band is good enough that they deserve more words than I've given them, but their music is so tried-and-true and, well, generic, that there really isn't a whole lot else to say. If this is your thing, by all means, look these gents up!